REEARTH HYDROVAC SLURRY DUMP SITE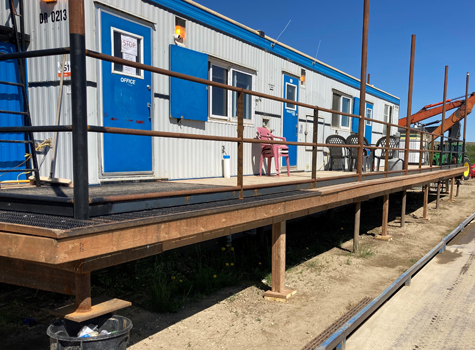 The ReEarth dump site accepts non-hazardous hydrovac slurry material for the purpose of separating the solid material from the liquid fraction. We achieve this without the use chemicals or additives.
We began building our site in 2017 when a need was identified for an efficient hydrovac waste management facility that can also recycle the material. It had to be capable of handling multiple units, with a quick, efficient turn around time, in conjunction with maintaining the highest of environmental standards. We are continuously finding ways to improve and raise the standards in the industry. We offer a clean, non-contaminated and professional waste storage site pursuant to the Environmental Protection and Enhancement Act, the Water Act and AER/AEP guidelines.
Our commitment to the environment includes innovative procedures not used on other sites. ReEarth is proud to provide superior environmental sustainability using green technology, to produce 100% fully recycled end products. We process and store over 100,000,000 kgs on our site. Materials that come in as waste, leave our site as fill material to rebuild our communities, ie: roads and infrastructure.
Currently, we are in the process of building a water station where clean, non potable water can be reused in the industry. The water can be reused by hydrovacs, horizontal directional drilling, dust suppression as well as agricultural purposes.
WHAT REEARTH CAN AND CAN NOT RECEIVE
At our facility, we accept:
Non-hazardous hydrovac waste that is generated from hydrovac operations at uncontaminated sites.
Horizontal directional drilling (HDD) waste generated from HDD operations at uncontaminated sites.
We are prohibited from receiving any of the following waste, either individually or in any combination:
hazardous waste
dangerous oilfield waste
municipal solid waste
domestic wastewater
domestic septage (including any hydrovac waste potentially impacted by domestic septage)
biomedical waste
material containing ozone depleting substances
explosives (Class 1 TDGR wastes)
radioactive wastes (Class 7 TDGR wastes)
radioactive wastes regulated under the Nuclear Safety and Control Act (Canada)
NORM waste
To learn more about the benefits of our dump site, click here.